Vino Priorat Les Pusses Crianza
The uniqueness of this Priorat resides in the peculiarity of the blend Syrah and Merlot, and it also becomes more distinguished after the 14 months spent in Hungarian oak.
Its fruity character integrates with the essence of the oak, bringing a wine that is ideal for evolution.
With bottle aging the aromas and flavours gain more complexity, becoming into coffee and toffee notes with hints of balsamic, toast.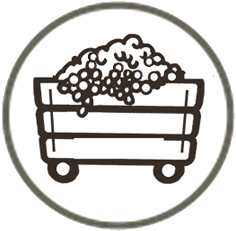 Medium intense red garnet colour with tawny reflections

Intense aromas of berries, cherries, prunes, vanilla and baking spices

Intense in the palate, round tannins, continuous acidity and a long aftertaste.

Storage temperature 14 - 16 °C Best Served between 16 - 18 °C